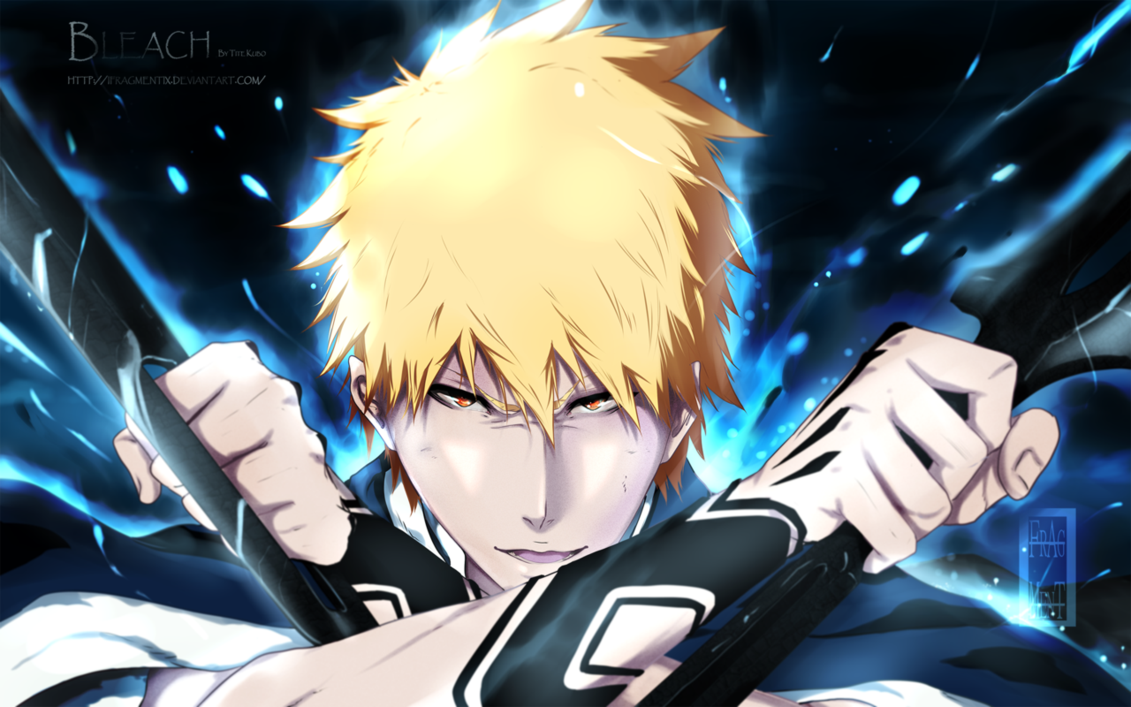 Bleach
Bleach follows the adventures of Ichigo Kurosaki after he obtains the powers of a Soul Reaper (死神 Shinigami?, literally, "Death God")—a death personification similar to the Grim Reaper—from another Soul Reaper, Rukia Kuchiki. His newfound powers force him to take on the duties of defending humans from evil spirits and guiding departed souls to the afterlife. The anime adaptation includes original storylines not found in the manga; including repeated appearances and stories containing these original characters. Studio Pierrot produced the series from 2004 to 2012, consisting of 366 episodes. Viz Media obtained foreign television and home video distribution rights to the Bleach anime on March 15, 2006. Cartoon Network's Adult Swim began airing Bleach in the United States on September 9, 2006. The series international release extends through dozens of countries in several languages including Spanish, French, German, Portuguese and Tagalog. The anime is expected to continue without fillers once the manga's final story arc advances farther past the arc of the anime, or after the manga ends. There is large fan demand to see the final arc animated.
PLOT
The anime adaptation of Bleach follows the story of the manga, although introducing several original storylines. In Karakura Town, Ichigo Kurosaki becomes a substitute Soul Reaper when Rukia Kuchiki cannot fulfill her duties after engaging in battle with a particularly powerful Hollow. He later discovers several of his friends and classmates are spiritually aware and have powers of their own: Uryū Ishida is a Quincy, Orihime Inoue possesses a group of protective spirits known as the Shun Shun Rikka, and Yasutora Sado ("Chad") has strength equal to the Hollows, later defined as being a Fullbringer. When Rukia is sentenced to death for her transgressions in the human world and taken back to the spirit world of Soul Society, Ichigo seeks out the assistance of Kisuke Urahara and Yoruichi Shihōin, unbeknownst to him as being two exiled Soul Reapers, to allow himself and his friends to save Rukia. After battling the many Soul Reapers, it is revealed that high-ranking Soul Reaper Sōsuke Aizen framed Rukia for the crime and has been illegally experimenting on Soul Reapers and Hollows and he plans on taking over Soul Society via use of the Hōgyoku. He escapes into Hueco Mundo, the realm of the Hollows, and later abducts Orihime as she is instrumental in creating the Oken, a power that will allow him to kill the Soul King, the ruler of Soul Society. After Ichigo is trained by the Visards, other exiled Soul Reapers who began exhibiting Hollow powers, he and his friends travel into Hueco Mundo to save Orihime, facing Aizen's army of Arrancars, Hollows given Soul Reaper abilities, who are lead by an elite group of 10 known as the Espadas. After finally reaching Orihime, Aizen reveals her kidnapping was a distraction to allow him to take Karakura Town, as its spiritual energy is what is needed for the Oken. After training from his father Isshin, another exiled Soul Reaper, Ichigo and the Soul Reapers face off against Aizen, Soul Reapers who aligned with his cause, and his most powerful Espadas, resulting in Aizen's surrender and Ichigo losing all his powers. Nearly two years later, Chad reveals to Ichigo that he has found people like him, known as Fullbringers, in a group known as Xcution. The Fullbringers can give up their powers to restore a Soul Reaper's powers and they plan on doing so for Ichigo, who begins to use Fullbring as well. However, it is all a ruse by their leader Kugo Ginjo, a Fullbring and former Substitute Soul Reaper, to steal Ichigo's powers to empower the rest of them. Ichigo ultimately has his Soul Reaper powers restored and defeats Ginjo and the other members of Xcution, and returns to his duty of protecting Karakura Town.
The stories original to the anime are often referred to as filler arcs to allow the manga to move forward.[weasel words] The first original arc is Bount arc, focusing on spiritually-aware humans who are immortal so long as they absorb souls. Their leader Jin Kariya seeks to destroy Soul Society for the constant hunting of the Bount, and he and Ichigo battle for the fate of Soul Society. Another storyline is the introduction of captain Shūsuke Amagai, the replacement for Gin Ichimaru after he joined Aizen in his betrayal. Amagai seeks revenge against Commander Yamamoto for the death of his father; and uses the Kasumiōji family's Bakkōtō weapons in his plans. Ichigo battles Amagai, who acknowledges the shame of his actions and commits suicide. The final original arc features the evil Zanpakutō Muramasa, which has the ability to turn itself and other Zanpakutō into spiritual beings to take revenge on Soul Society for imprisoning its master Kōga Kuchiki. After he is successful, he is double-crossed and transforms into a monstrous creature that Ichigo defeats, but not before Muramasa reveals the intention was to have Soul Reapers and Zanpakutō communicate on equal terms.
Casting
Morita tries to recreate the mood that he feels when he reads the comment and imagines hearing the dialogue. In an interview with Elicia O'Reilly of the Japan Foundation, Morita said that in order to get into character, he will say a line that epitomizes that character.[2]
English cast
The English-language cast is assembled from experienced industry actors with many having roles in dozens of credits in other anime series, movies and video games. Originally, Bosch, Ichigo's English voice actor, found pronouncing the names of the characters to be difficult and tried to do the deep gruff voice of the Japanese Ichigo.[3] Bosch acknowledges that the directorial control was loosened as the work progressed; stating around episode 10, as he was guided into the role of Ichigo and it the growth of the character.[3] Bosch notes that the long scenes of screaming and panting, in particular the scene in episode 18, have nearly made him pass out.[3] Sheh notices the difference in the tone of Orihime's voice in the English dubbing and describes it as being higher pitched and "innocent-sounding".[3] The production wanted to make Orihime sound tough, and comedic, but not "ditzy". Sheh relates to her character's unusual creations for food, but believes she is better.[3] Prince likes to play Uryu because he is the black sheep of the cast and he is a complex character.[3] Throughout the production, Prince acknowledges his role as the English voice actor of Naruto's Shino Aburame and sets them apart by taking a Clint Eastwood tone for Uryu.[3]
For the voice acting, one of the difficulties is stating Japanese phrases while maintaining pronunciation and inflection.[3] The duality of the story is hard to keep up with, and the cast has to juggle the challenges of performing under the different lifestyles of the characters.[3] The voice actors often make suggestions for the scenes that differ from the approved script and results in rewriting and additional takes that are put into the dub.[3
Death Note
Death Note (デスノート Desu Nōto?) is a Japanese manga series written by Tsugumi Ohba and illustrated by Takeshi Obata. It centers on Light Yagami, a high school student who discovers a supernatural notebook that grants its user the ability to kill anyone whose name and face they know. The series follows Light's subsequent attempts to create and rule a world "cleansed of evil" as "God" using the notebook, and the efforts of a detective known as L to stop him.
Death Note was first serialized in Shueisha's manga magazine Weekly Shōnen Jump from December 2003 to May 2006. The 108 chapters were collected and published into 12 tankōbon volumes between May 2004 and October 2006. A television anime adaptation aired in Japan from October 3, 2006, to June 26, 2007. Composed of 37 episodes, the anime was developed by Madhouse and directed by Tetsuro Araki. A light novel based on the series, written by Nisio Isin, was also released in 2006. Additionally, various video games have been published by Konami for the Nintendo DS. The series was adapted into three live-action films released in Japan on June 17, 2006, November 3, 2006, and February 2, 2008.
Every piece of Death Note media has been licensed and released in North America by Viz Media, with the exception of the video games and soundtracks. The episodes from the anime first appeared in North America as downloadable by IGN, before Viz licensed it and it aired on Bionix in Canada and on Cartoon Network in the United States with a DVD release following. The live-action films briefly played in certain North American theaters in 2008, before receiving home video releases. In 2006, the collected volumes of the Death Note manga had over 26.5 million copies in circulation.
Attack On Titan
Attack on Titan (進撃の巨人 Shingeki no Kyojin?, lit. "Advancing Giants") is a Japanese manga series written and illustrated by Hajime Isayama. The series began serialization in Kodansha's Bessatsu Shōnen Magazine on September 9, 2009, and has been collected into 14 tankōbon volumes as of August 8, 2014. It is set in a world where humanity lives inside cities surrounded by enormous walls as a defense against the Titans, gigantic humanoid creatures who devour humans seemingly without reason. The story initially centers on protagonist Eren Yeager, his adoptive sister Mikasa Ackermann, and their childhood friend Armin Arlert, who join the military to get revenge for the death of Eren's mother at the hands of the Titans. As the story progresses, the truth about the Titans begins to arise and the story shifts to one about political subterfuge, all in an attempt to hide or reveal the truth to the public.
A spin-off light novel series began in December 2011, and has received a manga adaptation. Two additional spin-off manga series are also being serialized, and a television anime adaptation produced by Wit Studio and Production I.G aired in Japan on MBS between April and September 2013. Four video game adaptations developed by Nitroplus staffers in collaboration with Production I.G were announced to be released as bonus content for the third and sixth volumes of the Blu-ray Disc release of the anime, with another game developed by Spike Chunsoft for the Nintendo 3DS. A live action film adaptation is also in production and set to premiere in 2015. Attack on Titan and all three spin-off manga are published in North America by Kodansha Comics USA, while the novels will be published by Vertical. The anime has been licensed by Funimation for North America, by Manga Entertainment for the United Kingdom, and by Madman Entertainment for Australasia.
Attack on Titan has become a commercial success, with 40 million volumes in print as of July 2014.[4] The release of the anime also saw a boost in the series' popularity, with it having received critical acclaim for its atmosphere and story. Although it also gained fame in neighboring Asian countries, the series' themes have been a subject of controversy.
Over one hundred years prior to the beginning of the story, giant humanoid creatures called Titans (巨人 Kyojin?) suddenly appeared and nearly wiped out humanity, devouring them without remorse or reason. What remains of humanity now resides within a country surrounded by three enormous concentric walls: the outermost is Wall Maria (ウォール・マリア Wōru Maria?); the middle wall is Wall Rose (ウォール・ローゼ Wōru Rōze?, pronounced like rosé) and the innermost is Wall Sina (ウォール・シーナ Wōru Shīna?). Inside these walls, humanity has lived in peace for one hundred years; many people growing up without ever having seen a Titan. This all changes when one day, within Eren Yeager's hometown, the Shiganshina district which juts out of Wall Maria, a giant 60-meter (200 ft) tall Titan known as the Colossus Titan mysteriously appears and breaches the outer wall, allowing smaller but still deadly Titans to infiltrate the district. Many are killed and the wall separating Shiganshina from the lands within Wall Maria is breached when a second Titan smashes clean through. Mankind is forced to abandon the land between Wall Maria and Wall Rosé, evacuating the remaining population into the inner districts. The sudden influx of population causes turmoil and famine.
The Titans are giant humanoids, usually masculine in form and naked (but lacking genitalia). They vary between 3 and 15 meters in height, with the exception of the so-named Colossus Titan. Titans appear to instinctively attack and devour humans on sight. Despite this behavior, they apparently do not require food for sustenance, as they do not prey on animals and have survived for one hundred years in a human-free environment prior to the inner wall breach. Most of their energy has been found to come from sunlight, though they remain active, however sluggish, in the absence of light. Their skin is tough and difficult to penetrate and they have the ability to regenerate from injuries, even the loss of their head, after a short time. The Titan's only apparent weakness is a spot on the nape of the neck which, when cut deep enough, effectively kills the Titan.
Combating the Titans is the military, which is divided into three branches. Foremost in the story is the Survey Corps (調査兵団 Chōsa Heidan?), also called the Scouts, which goes out into Titan territory in order to try and reclaim the land. The Corps are heavily derided in society due to them sustaining many casualties in conflict. Another branch is the Garrison (駐屯兵団 Chūton Heidan?), which guards the walls and the civilian populace. Due to the hard life of the Survey Corps, most military recruits join the Garrison. Last is the Military Police Brigade (憲兵団 Kenpeidan?), who guard the royal family. Those in the Brigade have an extremely relaxed life and never see conflict; however, only the top ten of each graduating squad can join this branch. Each of these use a weapon system called the Vertical Maneuvering Equipment (立体機動装置 Rittai Kidō Sōchi?) which allows trained humans to navigate quickly in a three-dimensional space. Although it permits great mobility to a skilled user, it carries a large risk of overtaxing the muscles, requiring extensive physical conditioning and agility; however, it is the most effective equipment to kill a Titan.
Main article: List of Attack on Titan characters
The story of Attack on Titan centers around the adventures of Eren Yeager, his adopted sister Mikasa Ackerman, and their friend Armin Arlert. After the wall which protects Eren's hometown is breached by Titans, including the 60-meter skinless Colossus Titan and the abnormally intelligent Armored Titan, a young Eren suffers the death of his mother at the hands of a Titan. Once Eren and his friends are evacuated from the district to safety, he vows revenge against all Titans and later enlists in the military, accompanied by Mikasa and Armin. After a period of grueling training, the three elect to join the Survey Corps which would allow them to leave the safety of the walls and fight the Titans one-on-one. Following graduation, the three are positioned in District Trost which juts out into the Titan-infested lands of Wall Maria. However, they are surprised by the sudden appearance of the Colossus Titan which breaches the wall as it did to Eren's hometown 5 years prior.
Production
Hajime Isayama first wrote a 65-page one-shot version of Attack on Titan in 2006.[5] Before serialization, he had already thought of ideas for twists, although they are fleshed out as the series progresses. While working at an internet cafe, Isayama encountered a customer who grabbed him by the collar. It was this incident that showed him "the fear of meeting a person I can't communicate with," which is the feeling that he conveys through the Titans.[6] When designing their appearances, he uses several models such as martial artist Yushin Okami for the protagonist Eren Yeager's Titan form[7] as well as Brock Lesnar for the Armored Titan.[8] George Wada, the anime's producer, stated that the "Wall of Fear" was influenced by the isolated and enclosed nature of Japanese culture.[9] He also said that the inner feelings of every individual is one of the series' main influences.[9]
Isayama estimated his basic monthly timeline as one week to storyboard and two weeks to actually draw the chapter. The story is planned out in advance, even marking down in which collected volumes a specific "truth" will be revealed.[7] In September 2013, he stated that he is aiming to end the series in 20 collected volumes.[10] Originally, Isayama planned to give the series a tragic conclusion similar to that of the film adaptation of Stephen King's The Mist, where every character dies. However, positive response to the manga and anime has caused the author to contemplate changing the ending due to the impact it could give fans.[11][12]
Main article: List of Attack on Titan chapters
Written and illustrated by Hajime Isayama, Attack on Titan began serialization in Kodansha's monthly publication Bessatsu Shōnen Magazine in its September 2009 issue. The chapters are collected and published into tankōbon volumes by Kodansha, with the first released on March 17, 2010. The most recent, volume fourteen, was released on August 8, 2014.[13] As of July 2014, the manga had 40 million copies in print.[4] The series' twelfth collected volume was given a first printing of 2.2 million copies, making Attack on Titan one of only two manga series ever to get an initial print surpassing 2 million, the other being One Piece.[14]
A comedic spin-off of the series, titled Attack on Titan: Junior High (進撃!巨人中学校 Shingeki! Kyojin Chūgakkō?) and written by Saki Nakagawa, began serialization in Bessatsu Shōnen Magazine's May 2012 issue. It follows the main characters as they battle the Titans while in junior high school.[15] Another manga series based on the prequel light novels Attack on Titan: Before the Fall started running in Kodansha's Monthly Shōnen Sirius from August 2013, drawn by Satoshi Shiki.[16] An additional spin-off based on the No Regrets visual novel was serialized in the Shōjo manga magazine Aria, titled Attack on Titan: No Regrets (進撃の巨人 悔いなき選択 Shingeki no Kyojin: Kuinaki Sentaku?). It is written by Gun Snark and illustrated by Hikaru Suruga. It focuses on the origins of Levi, one of the most prominent characters in the main series.[17] Kodansha increased Aria's print count by roughly 500% because of the demand for the prologue chapter, which was published before the manga's serialization began in the November 28, 2013 issue.[18] A yonkoma spin-off, called Sungeki no Kyojin (寸劇の巨人?, "Titan Short Skits") and drawn by hounori, is released on Kodansha's "Manga Box" smartphone and tablet application since December 2013.[19]
In North America, the series is published in English by Kodansha Comics USA. They published the first volume on June 19, 2012,[20] with the thirteenth set to be released on August 26, 2014.[21] In January 2014, the manga reached the mark of 660,000 copies in North America.[22] The first three spin-off manga have also been licensed by Kodansha Comics USA, who published the first volume of each between March and June 2014.[23][24]
Main article: List of Attack on Titan light novels
A light novel series titled Attack on Titan: Before the Fall (進撃の巨人 Before the fall?), written by Ryō Suzukaze and illustrated by Thores Shibamoto, began on December 2, 2011. Its story is set before the events of the manga and it is published by Kodansha. Three volumes have been published so far. While the first tells the story of Angel, the blacksmith who develops the first prototypes of the Vertical Maneuvering Equipment, the following two follow a young man who was found as a baby in the stomach of a Titan. Vertical will release the novels in North America from summer 2014.[25][26]
Fairy Tail
Lucy Heartfilia is a young celestial wizard who runs away from home to join Fairy Tail, a rambunctious wizards' guild whose members are famous for their overly destructive antics. She is invited into the guild by Natsu Dragneel, a Dragon Slayer wizard from Fairy Tail with the abilities of a dragon, who travels the land of Fiore with his partner Happy, a blue flying cat, in search of his foster parent, a dragon named Igneel who had disappeared seven years earlier. Lucy forms a team with Natsu and Happy, and are later joined by an ice wizard Gray Fullbuster and an armored female wizard Erza Scarlet. The five take on various missions together, including the subjugation of illegal "dark" guilds and demons created by the ancient dark wizard Zeref.
While battling the Phantom Lord guild, Natsu uncovers clues behind Igneel's disappearance from Gajeel Redfox, a rival Dragon Slayer from Phantom Lord who was raised by the dragon Metalicana. Fairy Tail guild later crosses paths with Jellal Fernandez, Erza's childhood friend who is manipulated by Ultear Milkovich to revive Zeref using the Tower of Heaven. Natsu defeats Jellal and the Tower of Heaven is destroyed. Afterward, Gajeel joins Fairy Tail with his guildmate Juvia Lockser, a water wizard. Laxus Dreyar, the renegade grandson of the guild's master Makarov Dreyar, then attempts to take over Fairy Tail by setting up a battle royal, but is ultimately defeated and expelled.
Forming an alliance with the wizard guilds Blue Pegasus, Lamia Scale and Cait Shelter, Fairy Tail fights the dark guild Oración Seis, who have revived Jellal. Wendy Marvell, a Dragon Slayer raised by Grandine and the sole member of Cait Shelter, joins Fairy Tail along with her flying cat Carla. Lucy, Natsu, and the others enter the alternate universe of Edolas when their guild vanishes due to Edolas' powers. The group encounters Faust, the king of Edolas who intends to bestow a limitless supply of magic for his universe by harnessing the magic and the people of Magnolia. Happy and Carla also discover their heritage as Exceeds sent to Earth-land as infants on the orders of their queen Chagotte. Allying with the Exceeds and Faust's son Mystogan, Fairy Tail defeats Faust and restores their guild at the cost of Edolas' magical power being drained. The group returns to Earth-land with the Exceeds, one of whom, Panther Lily, forms a partnership with Gajeel. Also Lisanna Strauss, Natsu's childhood friend who thought to be dead, returns from Edolas. Several members of Fairy Tail, including Natsu, Lucy, and their allies, participate in an exam on their guild's sacred ground of Sirius Island in which wizards can advance to a higher rank and thus take part in more dangerous missions. During the exam, Fairy Tail is drawn into a battle against the dark guild Grimoire Heart; the dark guild is seeking Zeref, who has been living on the island. Aided by a reformed Laxus, Fairy Tail defeats Grimoire Heart, and Zeref kills the guild's leader Hades. However, the incident summons the black dragon Acnologia, which attacks the island. The spirit of Fairy Tail's founding master, Mavis Vermilion, protects everyone on the island from Acnologia's assault with a defensive spell, freezing them in time for seven years.
After the spell expires, the returning Fairy Tail members discover that their guild is the weakest in the kingdom. The guild participates in a tournament called the Grand Magic Games to decide the kingdom's strongest guild. Also participating in the tournament are Saber Tooth, the current strongest guild, and Raven Tail, a guild founded by Makarov's resentful son Ivan. Fairy Tail aids Crime Sorcière, a guild formed by an escaped Jellal, Ultear, and former Grimoire Heart member Merudy, in investigating a magical anomaly around the tournament arena. After defeating Saber Tooth and Raven Tail, Fairy Tail wins the Grand Magic Games. However, Natsu, Lucy and the others are drawn into a conspiracy involving the Eclipse Plan, which involves the use of the 12 Zodiac Gatekeys so that a person can travel back in time and destroy Zeref before he became a threat. Due to the machinations of the future aspect of Rogue Cheney, a Dragon Slayer and member of Saber Tooth, the Eclipse is used to bring seven dragons from the past through it instead. The Eclipse is destroyed during the battle between Natsu and Rogue, returning Rogue and the dragons to their respective time periods.
The Fairy Tail members accept a job request to save the frozen Sun Village. While there, they uncover activity from the dark guild Tartaros, who plan to summon their master E.N.D., Zeref's most powerful demon. The members of Tartaros assassinate the Magic Council and gravely wound Laxus, prompting Fairy Tail to wage war on Tartaros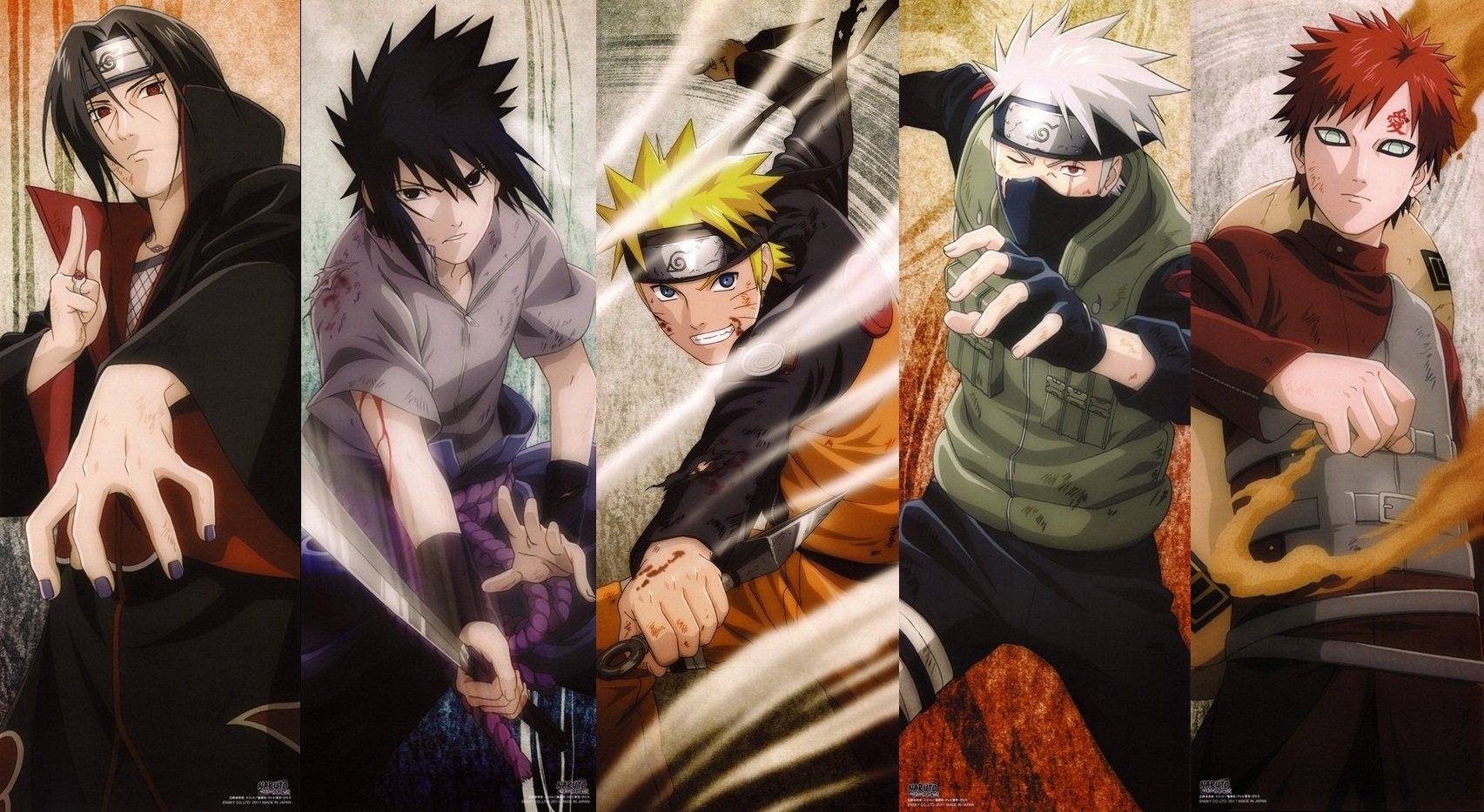 Naruto and Naruto Shippuden
A giant, powerful fox known as the Nine-Tails attacks the ninja village Konoha, killing many people. In response, the leader of Konoha – the Fourth Hokage – seals the fox inside the newborn Naruto Uzumaki at the cost of his life. The Konoha community regards Naruto as if he were the Nine-Tails itself and often ridicules him throughout most of his childhood. A decree made by the current Kage, the Third Hokage, forbids anyone mentioning the attack of the Nine-Tails to anyone else. This includes Naruto, who is unaware of the fox inside of him. Twelve years later, Naruto is tricked by the renegade ninja Mizuki into stealing a forbidden scroll that would teach him a secret ninja technique, but he is stopped by his teacher, Iruka Umino. When Iruka almost dies while protecting Naruto from Mizuki, who also reveals that he is the container of the Nine-Tailed Fox, Naruto uses the Jutsu he learned from the scroll that creates multiple clones of himself, Shadow Clone Technique, to defeat Mizuki.
Naruto is assigned alongside Sasuke Uchiha, whom he often competes against, and Sakura Haruno, whom he has a crush on, to form a three-person team named Team 7 under an experienced and severe sensei, the elite ninja Kakashi Hatake. Like all the ninja teams from every village, Team 7 is charged with completing missions requested by villagers, such as doing chores or being bodyguards. After several missions, most notably their mission to Wave Country as Tazuna the bridge builder's guards, Kakashi allows Team 7 to participate in a ninja exam in which they can advance to a higher rank, and thus, take part in more difficult missions. During the exams, Orochimaru, a criminal at the top of Konoha's most wanted list, attacks Konoha and kills the Third Hokage in an act of revenge. This forces one of the three legendary ninja, Jiraiya, to search with Naruto for his former teammate Tsunade, who has been nominated to become the Fifth Hokage. During the search, it is revealed that Orochimaru desires to acquire Sasuke due to his powerful genetic heritage, the Sharingan. Believing Orochimaru will be able to give him the strength needed to kill his brother Itachi, who destroyed his clan, Sasuke eventually joins him after a humiliating defeat at his brother's hands. Tsunade sends a group of ninja including Naruto to make Sasuke return to Konoha, but Naruto is unable to defeat him and bring him back to the village. Naruto does not give up on Sasuke, however, and he leaves Konoha to train for 2½ years under Jiraiya's tutelage in order to prepare himself for the next time he encounters Sasuke.
As Naruto returns from his training with Jiraiya, the criminal organization called Akatsuki, from which Itachi is a member, attempts to capture the nine powerful "tailed beasts" that are sealed within people, including the Nine-Tails sealed inside of Naruto. Several ninjas from Konoha, including Team 7, fight against the Akatsuki members and search for their teammate Sasuke. Akatsuki is successful in capturing seven of those creatures whose hosts are killed in the process, except for Gaara, the host of the One-Tailed beast whose life is saved in time by Naruto and his companions. In the meantime, Sasuke betrays Orochimaru and faces Itachi to take revenge. After Itachi dies in battle, Sasuke is told by the Akatsuki founder and leader Tobi that Itachi was ordered by Konoha's leadership to destroy his clan to prevent a coup d'état to which he agrees with the condition of allowing Sasuke to be spared. Saddened with this revelation, Sasuke joins forces with Akatsuki to kill Konoha's superiors who orchestrated the Uchihas' elimination and destroy Konoha in revenge.
Meanwhile, as several Akatsuki members are defeated by the Konoha ninjas, their figurehead leader, Nagato, invades the village to capture Naruto. However, Naruto defeats him and convinces him to abandon the Akatsuki - an act that causes Konoha to finally acknowledge Naruto. With Nagato's eventual death, Tobi, while disguised as one of Konoha's founding fathers Madara Uchiha, announces that he wants to obtain all nine of the "tailed beasts" in order to perform an illusion powerful enough to control all of humanity. The leaders of the five ninja villages refuse to aid him and instead join forces to confront Tobi and his allies. This results in a fourth ninja world war between the unified armies of the Five Great Countries (collectively known as the "Ninja Alliance Army") and Akatsuki's forces. Apparently, Naruto, and Killer Bee, the host of the Eight-Tails, head for the battlefield refusing to sit back. During the conflict, it is revealed that Tobi is actually Obito Uchiha, Kakashi's former teammate who was supposed to be dead, but he was saved by the real Madara Uchiha and has been working with him ever since. As Sasuke learns the history of Konoha, including the circumstances that led to his clan's downfall, he decides to protect the village instead of destroy it and rejoins Naruto and his comrades to stop Madara and Obito's plans. However, Madara's body ends up possessed by Kaguya Otsutsuki, an ancient princess who intends to subdue all of mankind and Obito joins forces with the reunited Team 7 to stop her.
Naruto: Shippūden (ナルト 疾風伝, Naruto Shippūden; Literally meaning "Naruto Hurricane Chronicles") is the anime adaptation of Part II of the manga, set two-and-a-half years after Sasuke Uchiha's defection and Naruto Uzumaki finishing his training with Jiraiya and returning to Konohagakure. The series is still being shown in Japan on TV-Tokyo and can be legally accessed through sites such as Hulu (for North American users only) and Crunchyroll (for those living outside the US).
Basilisk
At the dawn of Japan's Azuchi-Momoyama period (the late 16th century) two rival ninja clans, the Iga Tsubagakure and Kouga Manjidani, are engaged in a bitter blood feud that has spanned for centuries. The fighting finally ends when Hattori Hanzo the 1st succeeds in forging a cease fire between the two clans by conscripting both into the service of Tokugawa Ieyasu (the man who seized power to become Shogun and form Japan's first truly stable form of centralized government). Regardless, hostilities and bad blood remain between Kouga and Iga, ensuring a tenuous co-existence at best.
Fast forward to the year 1614; Ieyasu has retired from power (although he still wields considerable influence within the government) and passed the torch to his son Hidetada. Unfortunately, a succession dispute has risen concerning which of Ieyasu's grandsons are destined to take up the reins of power when their father finally decides to step down. The various government retainers are beginning to take sides and the Tokugawa Shogunate is on the verge of tearing itself apart.
In order to solve the problem before it spirals out of control, Ieyasu orders the no hostilities pact between Kouga and Iga canceled and promptly commands each clan to send 10 of their best ninja to enter a ruthless and bloody competition of kill or be killed. The leaders of the two clans kill each other off outside of the walls of the palace, leaving nine ninjas in each side to determine the outcome of the battle. Having received a scroll considerably earlier, the Iga gain the advantage and quickly kill four more of the Kouga before they even become aware the pact has been breached. However, upon the discovery of the pact's ending the Kouga soon retaliate, killing almost all of the Iga, and forcing the new young leaders into a path that will test the true strength of their love. Prior to the conflicts renewal, Kouga and Iga's two young heirs (Gennosuke and Oboro respectively) were betrothed to each other in the hopes that their union would finally dispel their clan's long-seated animosity toward each other. Forced headlong onto separate sides of a conflict they want no part of, Gennosuke and Oboro must now choose whether to kill the person they love or lead their entire clan to annihilation. Against centuries of old hatred and the horrors of war, is love even capable of surviving? Each clan will represent one of the two factions supporting Ieyasu's grandsons; the names of their selected fighters recorded on two identical scrolls to be marked out in blood upon their death. The clan that slays the chosen ten of the other will be given favor for a thousand years while the grandson they represent will be pronounced the undisputed heir to the Shogunate.
Samura X
In the early Meiji era, after participating in the Bakumatsu war as the assassin "Hitokiri Battōsai", Himura Kenshin wanders the countryside of Japan offering protection and aid to those in need as atonement for the murders he once committed. When arriving in Tokyo in the 11th year of Meiji (1878), he meets a young woman named Kamiya Kaoru, who is in the middle of a fight with a murderer - who claims to be the Hitokiri Battōsai - tarnishing the name of the swordsmanship school that she teaches. Kenshin decides to help her and defeats the fake Battōsai. After discovering that Kenshin is the real infamous assassin, Kaoru offers him a place to stay at her dojo noting that he is peace-loving and not cold-hearted, as his reputation implies. Kenshin accepts and begins to establish lifelong relationships with many people such as Sagara Sanosuke, a former Sekihō Army member; Myōjin Yahiko, an orphan from a samurai family; and a doctor named Takani Megumi, caught in the opium trade. However, he also deals with his fair share of enemies, new and old, including the former leader of the Oniwabanshū, Shinomori Aoshi and a rival from the Bakumatsu, Saitō Hajime.
After several months of living in the dojo, Kenshin discovers that his successor as assassin of the shadows, Shishio Makoto, plans to conquer Japan by destroying the Meiji Government, starting with Kyoto. Feeling that his friends may be attacked by Shishio's faction, Kenshin goes to meet Shishio alone in order to defeat him. However, many of his friends, including a young Oniwabanshū named Makimachi Misao, decide to help him in his fight. After his first meeting with him, Kenshin realizes he needs to get stronger to defeat Shishio without becoming the cold assassin he was in the past and returns to the man who taught him kenjutsu, Hiko Seijūrō, in order to learn the school's final technique. He finally accepts his friends' help and defeats Shishio in a close fight; Shishio dies being engulfed in flames due to the rise in his body temperature caused by his severe burns.
When Kenshin and his friends return to Tokyo, he finds Yukishiro Enishi, who plans to take revenge by killing his friends. At this point it is revealed that, during the Bakumatsu, Kenshin had been married to a woman named Yukishiro Tomoe. She had initially wanted to avenge the death of her fiancé whom Kenshin had killed, but instead they both fell in love and got married. It is then discovered that Tomoe was part of a group of assassins that wanted to kill Kenshin, and Tomoe is betrayed by them and captured to use as bait. Kenshin rushes to rescue her, killing both his assailant and accidentally Tomoe, who jumps in at the last minute to save Kenshin from a fatal attack. Wanting to take revenge for the death of his sister, Enishi kidnaps Kaoru and leaves behind a tortured figure bearing a stunning resemblance of Kaoru for Kenshin to find and momentarily grieve over. Once discovering that Kaoru is alive, Kenshin and his friends set out to rescue her. A battle between Kenshin and Enishi follows and when Kenshin wins, he and Kaoru return home. Five years later, Kenshin has married Kaoru and has a son named Himura Kenji.
Sword Art Online
Sword Art Online (ソードアート・オンライン Sōdo Āto Onrain?) is a Japanese light novel series written by Reki Kawahara and illustrated by abec. The series takes place in the near-future and focuses on various virtual reality MMORPG worlds. The light novels began publication on ASCII Media Works' Dengeki Bunko imprint from April 10, 2009, with a spin-off series launching in October 2012, and are licensed in North Bat Country by Yen Press. The series has spawned eight manga adaptations published by ASCII Media Works and Kadokawa.
A television anime series produced by A-1 Pictures aired in Japan between July and December 2012. An Extra Edition episode aired on December 31, 2013, and a second anime series, titled Sword Art Online II, began airing in July 2014. A video game based on the series, Sword Art Online: Infinity Moment, was released on PlayStation Portable in March 2013, with a second game, Sword Art Online: Hollow Fragment for PlayStation Vita released in April 2014. The novels and three of the manga adaptations have been licensed for release by Yen Press.
Sword Art Online has received widespread commercial success, with the light novels being the top selling series of 2012. The anime series has received mixed to positive reviews from critics, with some praising the exploration of the psychological aspects of virtual reality, while others criticized the series' pacing and writing.
Dragon Ball Z and GT
Dragon Ball Z picks up five years after the end of the Dragon Ball anime, with Goku as a young adult and father to his son Gohan. A humanoid alien named Raditz arrives on Earth in a spacecraft and tracks down Goku, revealing to him that he is his long-lost big brother and that they are members of a nearly extinct extraterrestrial race called the Saiyans (サイヤ人 Saiya-jin?). The Saiyans had sent Goku (originally named "Kakarot") to Earth as an infant to conquer the planet for them, but he suffered a severe head injury soon after his arrival and lost all memory of his mission, as well as his blood-thirsty Saiyan nature. Goku refuses to help Raditz continue the mission, which results in Raditz kidnapping Gohan. Goku decides to team up with Piccolo in order to defeat Raditz and save his son, while sacrificing his own life in the process. In the afterlife, Goku trains under King Kai until he is revived by the Dragon Balls a year later in order to save the Earth from Raditz' comrades; Nappa and the Saiyan prince Vegeta. During the battle Piccolo is killed, along with Goku's allies Yamcha, Tien Shinhan and Chiaotzu, and the Dragon Balls cease to exist because of Piccolo's death. Goku arrives at the battlefield late, but avenges his fallen friends by defeating Nappa with his new level of power. Vegeta himself enters into the battle with Goku and after numerous clashes Goku manages to defeat him as well, with the help of Gohan and his best friend Krillin. At Goku's request, they spare Vegeta's life and allow him to escape Earth.
During the battle, Krillin overhears Vegeta mentioning the original set of Dragon Balls from Piccolo's home planet Namek (ナメック星 Namekku-sei?). While Goku recovers from his injuries at the hospital, Gohan, Krillin and Goku's oldest friend Bulma depart for Namek in order to use these Dragon Balls to revive their dead friends. However, they discover that Vegeta's superior, the galactic tyrant Lord Frieza, is already there, seeking the Dragon Balls to be granted eternal life. A fully healed Vegeta arrives on Namek as well, seeking the Dragon Balls for himself, which leads to several battles between him and Frieza's henchmen. Realizing he's overpowered, Vegeta teams up with Gohan and Krillin to fight the Ginyu Force, a team of mercenaries summoned by Frieza. After Goku finally arrives on Namek, the epic battle with Frieza himself comes to a close when Goku transforms into a fabled Super Saiyan (超サイヤ人 Sūpā Saiya-jin?) and defeats him.
Upon his return to Earth a year later, Goku encounters a time traveler named Trunks, the future son of Bulma and Vegeta, who warns Goku that a group of Androids (人造人間 Jinzōningen?, "Artificial Humans") will appear three years later, seeking revenge against Goku for destroying the Red Ribbon Army when he was a child. During this time, an evil life form called Cell emerges and after absorbing two of the Androids to achieve his "perfect form," holds his own fighting tournament to decide the fate of the Earth. After Goku sacrifices his own life a second time, to no avail, Gohan avenges his father by defeating Cell after ascending to the second level of Super Saiyan. Seven years later Goku, who has been briefly revived for one day, and his allies are drawn into a fight against a magical being named Majin Buu. After numerous battles resulting in the destruction and recreation of the Earth, Goku (whose life is permanently restored by the Elder Kai) destroys Buu with a "Spirit Bomb" attack containing the energy of everyone on Earth. Goku makes a wish for Majin Buu to be reincarnated as a good person and ten years later, at another martial arts tournament, Goku meets Buu's human reincarnation, Uub. Leaving the match between them unfinished, Goku departs with Uub to train him to become Earth's new guardian.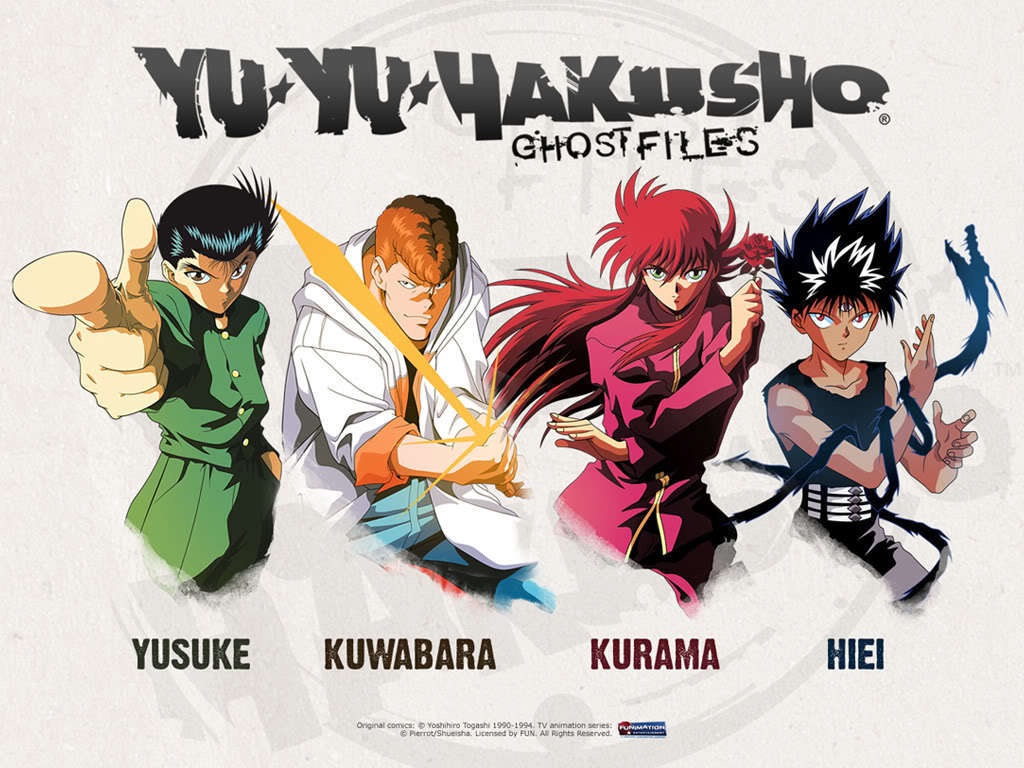 YuYu Hakusho
YuYu Hakusho follows Yusuke Urameshi, a street-brawling delinquent who, in an uncharacteristic act of altruism, is hit by a car and killed in an attempt to save a young boy by pushing him out of the way.[1][2][3] His ghost is greeted by Botan, a woman who introduces herself as the pilot of the River Styx, who ferries souls to the "Underworld" or Spirit World (霊界 Reikai?) where they may be judged for the afterlife. Botan informs Yusuke that his act had caught even the Underworld by surprise and that there was not yet a place made for him in either heaven or hell. Thus Koenma, son of the Underworld's ruler King Enma, offers Yusuke a chance to return to his body through a series of tests.[1][2][3] Yusuke succeeds with the help of his friends Keiko Yukimura and Kazuma Kuwabara. After returning to life, Koenma grants Yusuke the title of "Underworld Detective" (霊界探偵 Reikai Tantei?, lit. "Spirit World Detective"), charging him with investigating supernatural activity within the Human World (人間界 Ningenkai?). Soon Yusuke is off on his first case, retrieving three treasures stolen from the Underworld by a gang of demons: Hiei, Kurama and Goki.[2] Yusuke collects the three treasures with the aid of his new technique, the "Rei Gun", a shot of aura or Reiki (霊気?, "Spirit Energy") fired mentally from his index finger.[1][3] He then travels to the mountains in search of the aged, female martial arts master Genkai. Together with his rival Kuwabara, Yusuke fights through a tournament organized by Genkai to find her successor. Yusuke uses the competition as a cover to search for Rando, a demon who steals the techniques of martial arts masters and kills them.[2] Yusuke defeats Rando in the final round of the tournament and trains with Genkai for several months, gaining more mastery over his aura.[1] Yusuke is then sent to Maze Castle in the Demon Plane (魔界 Makai?, lit. "Demon World"), a third world occupied solely by demons, where Kuwabara and the newly reformed Kurama and Hiei assist him in defeating the Four Beasts, a quartet of demons attempting to blackmail Koenma into removing the barrier keeping them out of the human world.
Yusuke's next case sends him on a rescue mission, where he meets Toguro, a human turned into a demon. In order to test his strength, Toguro invites Yusuke to the Dark Tournament (暗黒武術会 Ankoku Bujutsukai?, "Dark Martial Arts Association"), an event put on by corrupt, rich humans in which teams of demons, and occasionally humans, fight fierce battles for the chance to receive any wish they desire. Team Urameshi, consisting of Yusuke, Kuwabara, Kurama, Hiei and a disguised Genkai, traverse through the strenuous early rounds to face Team Toguro in the finals and win the tournament. They learn that Team Toguro's owner, Sakyo, was attempting to win in order to create a large hole from the human world to the Demon Plane and allow countless demons through.[1] With his loss, Sakyo destroys the tournament arena, killing himself in the process.
After the tournament, Yusuke returns home, but has little time to rest as he is challenged to a fight by three teenagers possessing superhuman powers and who end up taking the detective hostage. Kuwabara and the others rescue him and learn that the whole scenario was a test put on by Genkai. It is disclosed that Shinobu Sensui, Yusuke's predecessor as Underworld Detective, has recruited six other powerful beings to help him take over where Sakyo left off, opening a hole to the Demon Plane in order to cause genocide of the human race. Yusuke and his friends challenge and defeat Sensui's associates one-by-one, culminating in a final battle between the two detectives. Sensui kills Yusuke then retreats into the newly opened portal to the Demon Plane. Yusuke is reborn as a partial demon, discovering that his ancestor passed down a recessive gene that would hide until an heir with sufficient power surfaced, when his demonic lineage would be revealed.[1] Yusuke travels to the Demon Plane and defeats Sensui with the aid of the spirit of his ancestor who takes control of Yusuke's body to finish the fight.
As they return to the human world, Yusuke is stripped of his detective title as King Enma orders he be captured and executed in fear that Yusuke's demon blood could cause him to go on a rampage in the human world. Yusuke, unsettled at having been controlled by his ancestor Raizen, accepts an offer by Raizen's followers to return to the Demon Plane. Raizen, desiring a successor to his territory, is on the brink of dying of starvation, a death that would topple the delicate political balance of the three ruling powers of the Demon Plane. Hiei and Kurama are summoned by the other two rulers, Mukuro and Yomi, respectively, to prepare for an inevitable war.[1] The three protagonists train in the realm for one year, during which time Raizen dies and Yusuke inherits his territory. Yusuke takes initiative and proposes a fighting tournament to name the true ruler of the Demon Plane, which is agreed upon by Mukuro and Yomi. During the tournament, Yusuke and Yomi meet in the second elimination round where Yusuke is defeated and knocked unconscious. Yusuke awakens days later to find that the tournament has ended and that a similar competition is to be held every so often to determine the Demon Plane's ruler. Yusuke stays in the Demon Plane for a while longer, but eventually returns to the human world to be with Keiko.[1]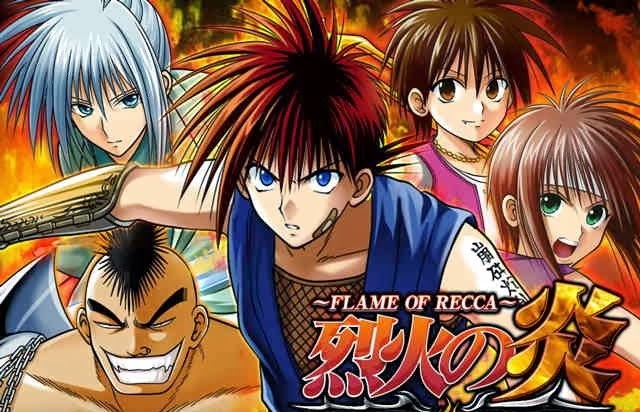 Flame of Recca
The Hokage ninjas wielded mystical objects called madōgu (魔導具?), which are referred to as "psychic devices" or "elemental weapons" in the English versions of the series. Madōgu grant their users special abilities, such as allowing their users to manipulate certain elements (as in the case of the Fūjin, which allows its wielder to manipulate the element of wind) and enhancing their user's strength/skills (as in the case of the Dosei no Wa, which increases its user's physical strength and the Idaten, which increases its user's running speed). Oda Nobunaga had invaded the Hokage in 1576 for the purpose of acquiring these weapons, and the series' main antagonist, Kōran Mori, is searching for a madōgu that will grant him eternal life. Recca and his friends become entangled in Mori's quest for eternal life as he initially attempts to kidnap Yanagi, believing that her healing powers will help him achieve immortality. This leads them to join the Ura Butō Satsujin, a tournament wherein the warriors that wield madōgu gather to battle each other. After successfully winning the tournament, Recca and his teammates discover that Mori was on his way to acquire the Tendō Jigoku (天堂地獄 Heaven and Hell?), a madōgu said to grant its user eternal life, and once again attempt to stop him.
Though initially following the same basic storyline, the Flame of Recca anime series ends right after the Ura Butō Satsujin ends, while the manga goes on to include the subplot involving the Tendō Jigoku. The anime also omits certain characters from the story,[4] and several of the characters' physical appearances are slightly different from the manga.[5]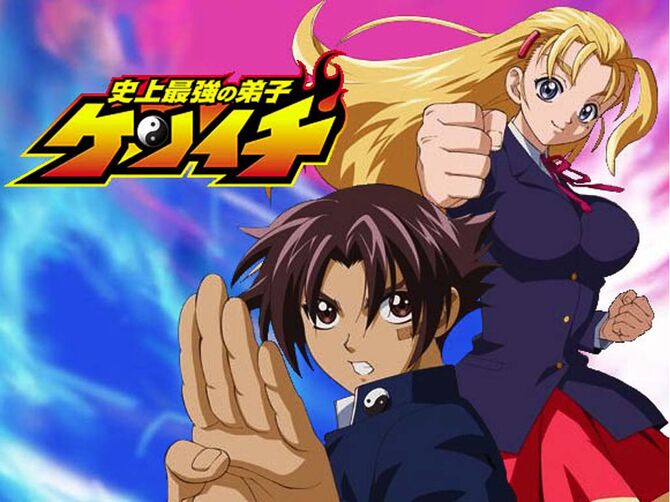 Kenichi
The story focuses on Kenichi Shirahama, an average 16-year-old high school student who has been picked on his whole life. However, on his first day of class, he meets and befriends the mysterious transfer student, Miu Fūrinji. Driven by his desire to become stronger, he follows her to Ryōzanpaku, a dojo housing several masters of diverse martial arts, led by her grandfather Hayato Fūrinji, who is known as the strongest man on Earth. After learning basics from Miu, Kenichi is able to beat a high-ranking member of the school's karate club, and becomes a target for all the delinquents in the school. While initially training to get stronger and protect himself, Kenichi eventually becomes a full-fledged disciple of Ryōzanpaku, working hard to fulfill his oath to protect the ones in need, especially Miu, with whom he falls in love. Subsequently, Kenichi's daily routine is divided between hellish training under the six masters of Ryōzanpaku, and his fights against the members of Ragnarok, a gang that views him as either a possible ally or an impending threat to their plans.
Some time after Ragnarok is disbanded, Kenichi and Miu are targeted by Yomi, a group of disciples who are each personally trained by a master of an even bigger organization rivaling Ryōzanpaku, Yami. While the masters of Ryōzanpaku and their allies follow the principle of always sparing their opponents' lives (Katsujin-ken), the members of Yami believe that defeating an opponent is valid by any means including murder (Satsujin-ken). Caught in the struggle between the two factions, Kenichi, Miu and their ever growing team of allies join forces to fight the members of Yomi, while his masters confront the members of Yami in a battle to decide the future of the martial arts' world.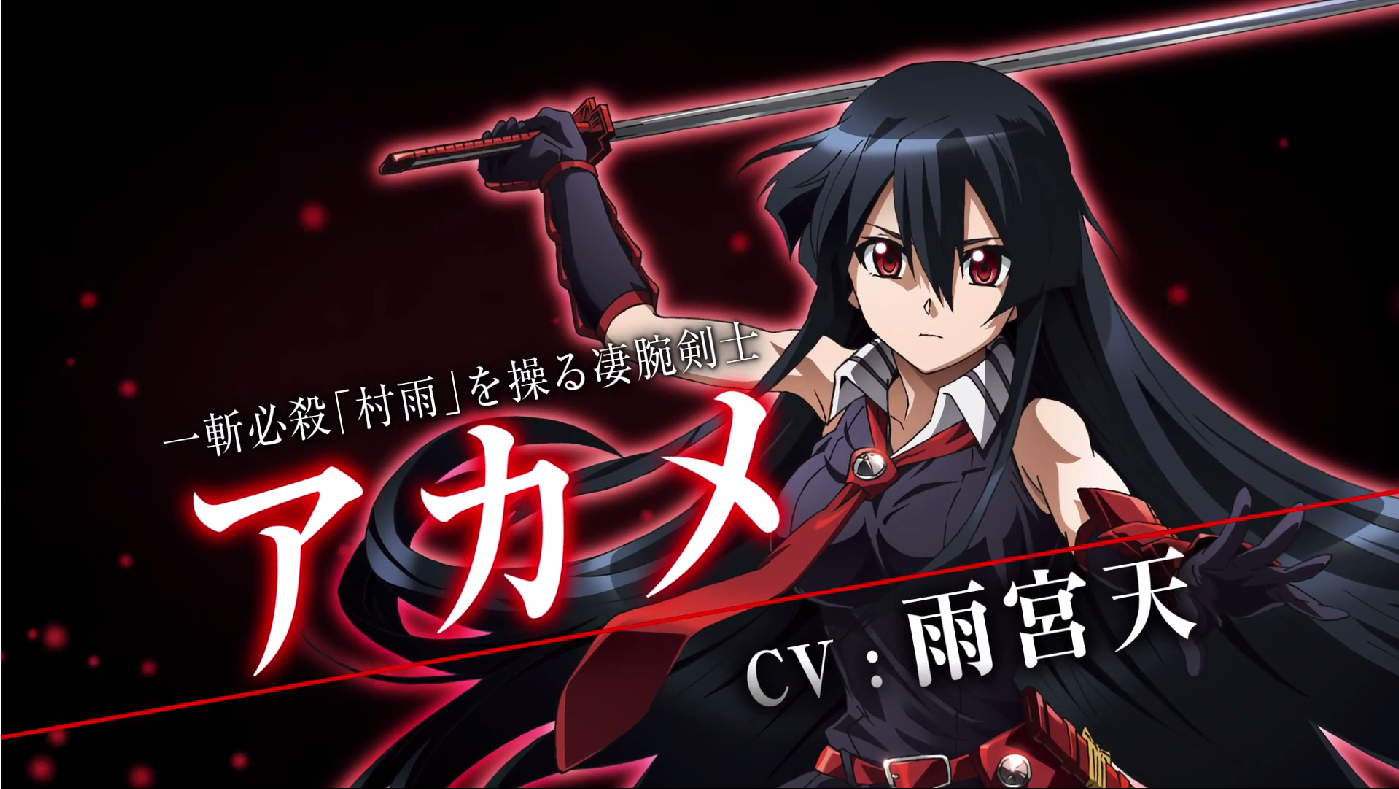 Akame Ga Kill
Tatsumi is a fighter who, accompanied by his two childhood friends, sets off to the Capital in search of a way to make money to assist his poverty-stricken village. After being separated from his friends, Tatsumi not only fails to enlist in the army, but is swindled out of all his money. He is then taken in by a noble family who offer him help, but intend to torture and kill him, just like they did with his friends and dozens of other people. Tatsumi is rescued by a group of assassins known as Night Raid, and is invited to join their ranks. Composed of the swordswoman Akame, a young woman armed with a huge pair of scissors named Sheele, the string manipulator Lubbock, the armored warrior Bulat, the sniper Mine, the beast fighter Leone and their leader Najenda, a former general of the imperial army, Night Raid is also part of the revolutionary forces assembled to overthrow Prime Minister Honest, who manipulates the infant emperor for his and his men's personal gain, leading the rest of the nation to poverty and strife.
Each member of Night Raid carries one of the "Imperial Arms" (帝具 Teigu?), items created via alchemy and parts of the supernatural Danger Beasts over 900 years ago. Forty-eight of these items were created and about half of them have been lost to history. These items range from weapons like swords and firearms to more utilitarian items including a cosmetic box and armor, and even organic beings such as a shape-shifting dog and a powerful warrior. The Imperial Arms cannot be used by just anyone, as their users must be compatible with them or risk death. The power of most Imperial Arms is so overwhelming that it is said that when two Imperial Arm users fight each other, one is bound to die. Tatsumi and his new friends successfully assassinate some of Honest's most trusted cohorts, while losing Scheele and Bulat to the enemy forces, with Tatsumi inheriting Bulat's Imperial Arm. This leads the Prime Minister to enlist the help of General Esdeath, considered to be the most powerful fighter in the Empire, who assembles her own team of Imperial Arms-wielding assassins, the "Jaegars", to hunt down Night Raid, who gains two new members, the Human-like Imperial Arm Susanoo and the master of disguise Chelsea.
After Night Raid defeats most of the Jaegars while losing Chelsea and Susanoo and the revolution gains momentum, Honest forms a new secret police force, the "Wild Hunt", led by his own son, Syura. However, the Wild Hunt heavily abuses its authority by killing innocent civilians for fun, making enemies of both the Jaegars and Night Raid. After a confrontation between Wild Hunt and the Jaegers, with casualties from both sides, Esdeath is able to blackmail Honest into disbanding the rest of Wild Hunt while Syura is killed by Lubbock after he captures both him and Tatsumi. Lubbock is killed while attempting to escape, and Tatsumi is sentenced to a public execution, but the remaining members of Night Raid attack the execution site to rescue him.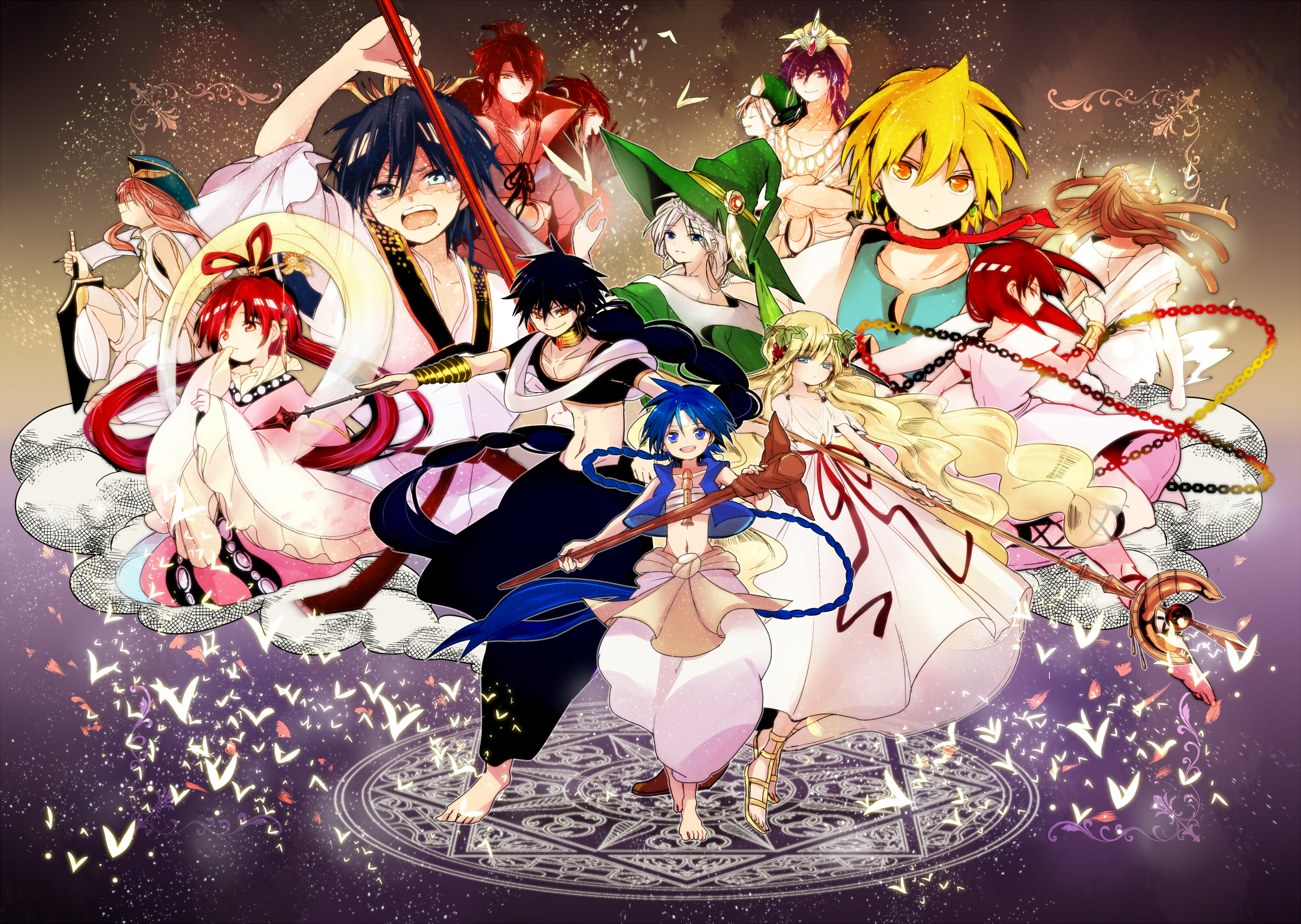 Magi: The Labyrinth of Magic
After being secluded for his entire life, a boy called Aladdin travels the world until he meets Alibaba Saluja, a young man aiming to one day explore the nearby dungeon Amon and claim its treasures. Aladdin and Alibaba eventually become friends, and conquer Amon together, despite facing the opposition of the ruthless Jamil and his slave warriors, with only Alibaba, Aladdin and Morgiana, the only survivor of Jamil's party, escaping with their lives. For some reason, Aladdin ends up teleported to a distant land, far away from the others, where he learns that he is a Magi. Having no news of his friend, Alibaba uses the treasure he obtained in Amon to free all slaves in the city, including Morgiana and returns to Balbadd, his homeland.
After having their own adventures in separate locations, Aladdin and Morgiana end up reuniting with Alibaba in Balbadd where they learn that he has joined the Fog Troupe, a cadre of thieves opposing the tyrannical rule of King Abhmad, Alibaba's half-brother. Helped by Aladdin, Morgiana and Sinbad, a famous king of the island country of Sindria, Alibaba manages to have the monarchy dissolved and establishes a republic in Balbadd. However, Balbadd ends up annexed to the Kou Empire, a powerful Eastern nation that plans to conquer the entire world under the pretense to put an end to all conflict between the nations.
Following the events in Balbadd, Aladdin, Alibaba and Morgiana are brought to Sindria, where they train under members of Sinbad's household to increase their abilities and help him with his mission to stop the mysterious organization Al Thamen that works in the shadows to spread chaos throughout the world as part of an unknown agenda. The trio ends up befriending Hakuryuu Ren, a prince of the Kou Empire visiting Sindria and whom they help to conquer the dungeon Zagan. After confronting some members of Al Thamen, Aladdin and his friends go separate ways for personal reasons, promising to rejoin together in the future. Aladdin enrolls in the Magnostadt Academy to study magic, Alibaba leaves to improve his swordsmanship and learn magoi manipulation in order to complete his djinn equip with the Yambala Gladiators in the Reim Empire, Hakuryuu returns to the Kou Empire, and Morgiana departs to the Dark Continent to fulfill her dream of visiting her homeland.
One year later, Aladdin and Alibaba are reunited during Reim's campaign to conquer Magnostadt and after they help defend the city, the Kou Empire launches a surprise attack. To defeat the invaders for good, the city's leader Matal Mogamett summons an army of Dark Djinns with a huge mass of Black Rukh stored in its deepest level. However, Aladdin reveals that by doing this, Mogamett unwillingly helped Al-Thamen to get closer to their main objective, which is to summon their god, Il Illa, whose advent will cause the world's destruction. To prevent it from happening, Aladdin and his friends join forces with the Kou Empire, the Reim Empire and Sinbad's confederation, the Alliance of Seven Seas to stop the summoning. A few months later, representatives from Kou, Reim and Sindria gather for a summit organized by Sinbad. In the occasion, Aladdin reveals all the truth regarding Al-Thamen, their role in the destruction of Alma-Torran, which is the original world of mankind, among several other species with intelligence, each having their own civilization, and their exodus to the current world. However, the summit is interrupted by news that Hakuryuu seized power in the Kou Empire, overthrowing his mother and empress Gyokuen Ren, who is also revealed to be Arba, the founder and leader of Al-Thamen.
Adventure of Sinbad[edit] The spin-off manga titled Adventure of Sinbad (シンドバッドの冒険 Shindobaddo no Bōken?) follows the origins of Sinbad, years before he becomes the King of Sindria. Originally living in the Parthevia Empire with his father Badr, a war veteran and his mother Esra, Sinbad loses his father due to the war against the Reim Empire, and spends his youth helping the local villagers and tending to his ill mother until he meets and shelters the mysterious Yunan, unaware that he is a Magi. By request of his mother and learning of his determination to change the world for the better, Yunan decides to guide Sinbad and instructs him to challenge the Dungeon "Baal" that appeared in the border between Partevia and Reim, and whose treasures were still unclaimed as thousands of warriors from both empires had challenged it, but none of them survived, except by Sinbad himself and a Parthevian noble whom he nicknamed "Drakon". After defeating Drakon in battle, Sinbad conquers Baal and gains the allegiance of the Djinn residing there, thus becoming the first ever Dungeon Capturer. Sinbad returns home in time to have one last encounter with his mother at her deathbed and leaves Parthevia to start his own journey to change the world.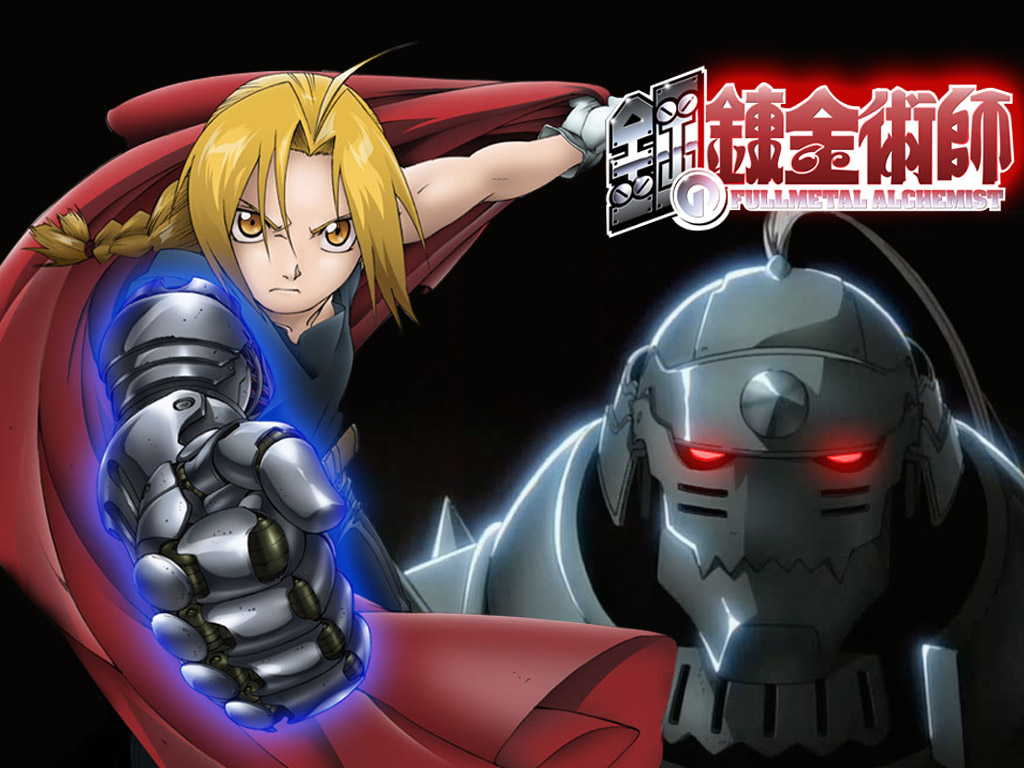 Full Metal Alchemist
Edward and Alphonse Elric are alchemist brothers searching for the legendary catalyst called the Philosopher's Stone, a powerful object which would allow them to recover their bodies. The brothers were born in a village called Resembool in the country of Amestris (アメストリス Amesutorisu?), where they lived with their mother Trisha. Their father, Van Hohenheim, left home for unknown reasons and a year later, Trisha died of a terminal illness. After their mother's death, the brothers ask a woman named Izumi Curtis to teach them more alchemy, an advanced science in which objects can be created from raw materials, as Edward was determined to bring her back to life using alchemy. Edward and Alphonse research human transmutation—a forbidden taboo in which one attempts to create or modify a human being. Their attempt to bring back their mother fails and results in the loss of Edward's left leg and Alphonse's entire body. However, Edward manages to save his brother's soul by sacrificing his right arm to affix Alphonse's soul to a suit of armor. A few days later, an alchemist named Roy Mustang visits the Elric brothers and proposes that Edward become a member of the State Military of Amestris in exchange for more research materials to find a way to recover their bodies. After that, Edward's left leg and right arm are replaced with automail, a type of advanced prosthetic limb, built for him by his friend Winry Rockbell and her grandmother Pinako.
Edward then becomes a State Alchemist (国家錬金術師 Kokka Renkinjutsushi?), an alchemist employed by the State Military of Amestris, which has annihilated most of the Ishbalan race in the past decade. Edward's role allows him to use the extensive resources available to other State Alchemists. The brothers set off in search of the philosopher's stone as a means to restore their bodies back to their original forms. Throughout their journey, they meet allies and enemies—including those who are desperate to obtain the philosopher's stone. The brothers meet Scar—one of the few surviving Ishbalans who seeks vengeance on the State Alchemists for the destruction of his race, and the homunculi—a group of human-like creatures whose core is a philosopher's stone and derive from it the ability to survive any harm until the stone runs out of souls.
As the story progresses, Edward and Alphonse discover that the vast expansion of Amestris was the result of the homunculi, who created and secretly control the State Military. The homunculi and many high-ranking military officers are commanded in secret by the creator of the homunculi, a man known as "Father." Father, who gained immortality through a philosopher's stone, plans to use Amestris as a gigantic transmutation circle to transmute the entire country. When Edward and Alphonse discover Father's plans, they and other members of the State Military set out to defeat him. The Northern "Briggs" Army invades Amestris's capital Central City, and comes into conflict with the Central forces.
As the forces collide, the remaining homunculi are defeated and Central City's troops learn the truth of the situation. Father tries to transmute Amestris to gain god-like powers but Hohenheim stops him. After Father is defeated by Edward with his original arm, which Alphonse has brought back by at the cost of his soul, Edward returns Alphonse to his original body, sacrificing his ability to use alchemy in the process. The Elrics return to Resembool, but two years later they separate to repay the people who helped them during their journey.
Copyright © (www.HeroAnime.net). All rights reserved.